At 21 years old, I am incredibly lucky to have had a wide range of travel experiences. I'm from an adventurous family; I lived in Australia from ages two to five (military kid), road-tripped from Boston to Montana and Wyoming at nine, and spent two weeks riding an RV around Alaska at thirteen. I enjoyed these trips, but in a passive way. I wasn't really involved in them; I was just along for the ride, following my parents. I discovered the thrill of traveling for myself my sophomore year of college, when I was able to study abroad in London.
As much as I loved living in this huge, amazing city, my favorite thing about the semester was the opportunity it afforded to travel and to explore Europe. During my four-month stay in the UK, I made trips to Scotland, Belgium, the Netherlands, Italy, and France, as well as shorter day-trips within England. I discovered that I really love to travel. To land in a foreign place and spend days just walking and seeing things I couldn't experience anywhere else.
Ever since I returned home over a year ago, I've had a major case of wanderlust. I'll spend hours reading my Let's Go: Europe guidebook, learning what there is to do in Prague or which cities I should visit in Sweden. I have itineraries written out for trips to Ireland, Portugal, and Croatia, and folders on my computer full of pictures of Norwegian fjords, Medieval French towns, Peruvian Inca ruins, and Cambodian temples. My soul is constantly yearning to be on the move again. But since I can't be traveling all the time, I like to read books about other people's adventures. Sure, these books can't quite satiate my hunger for travel, but they can be informative and truly inspiring. For any other bookworms who are constantly hearing the call of the road (or train, or plane), I'd like to share some of my favorites:
On The Road by Jack Kerouac: The essential road trip novel follows the adventures of Sal Paradise as he treks back and forth across the country in the company of reform school escapee Dean Moriarty, criss-crossing the nation by foot, hitched rides, busses and hopped freight cars. The autobiographical novel is perfect for the restless soul longing to go "adventuring in the crazy American night." I love the burning, ecstatic language that is bursting with energy and life. It's as if Kerouac can't get the words down fast enough, and his words are so, so lovely.
Seven Years in Tibet by Heinrich Harrer: This is the true story of Harrer's journey through Tibet and his residency in Lhasa in the 1940s. A German explorer visiting India when WWII broke out, he was captured and held in an English internment camp. After making a thrilling escape from the camp, Harrer began a long trek through Tibet to seek asylum in Lhasa, the "Forbidden City" and home of the young Dalai Lama. The book provides an incredible description of a culture untouched by the Western world, an inside account of his surprisingly close relationship with the Dalai Lama and a look at the incredible capital city of Lhasa before the Chinese takeover in 1950. Through his observations and stories, Harrer makes the reader really care about the plight of the Tibetans under Chinese rule: their people slaughtered and repressed, their monasteries destroyed, and their leader driven into exile. While the tale, ending with the exodus of the Dalai Lama and thousands of Tibetans before the approaching Chinese troops, will not leave you with a feeling of happy contentment (anger is more likely), it's an epic adventure story about a completely foreign, mysterious culture and is an incredibly satisfying read for those who long to wander.
Ghost Train to the Eastern Star: On the Tracks of the Great Railway Bazaar by Paul Theroux: Half a lifetime later, acclaimed travel writer Theroux retraces the steps of his 1973 "Great Railway Bazaar: By Rail Through Asia" journey. Beginning in London, he travels by train across Europe and through Asia, as far east as Japan, before returning to Europe via the Trans Siberian Express across Russia. Perhaps a bit cynical, Theroux does not sugar coat his experiences but rather writes about the realities of train travel and the places he visits. Although "The Great Railway Bazaar" is a great read, "Ghost Train to the Eastern Star," which was written following his 2006 journey, offers a much more modern depiction of the countries Theroux travels through. As always, he provides rich and often fascinating information about the current political climates and cultural histories of the places he visits. An additional point of interest in this book is Theroux's penchant for tracking down and meeting with famous writers in the cities he passes through; "Ghost Train" sees him spending time with Orhan Pamuk in Istanbul and Haruki Murakami in Tokyo, among others.
A Year in Provence by Peter Mayle: Mayle is a lighter, more idealistic writer than Theroux. His book chronicles the first year he and his wife spent in the French region of Provence after retiring from their working life in England. Although he does not travel further than the Côte d'Azur, he paints a lovely picture of life in the French countryside, from visits to local markets to golden hours spent indulging his palate with enormous, delicious meals. Life in Provence is not all relaxing with a glass of wine and plate of fresh bread, though. Mayle recounts frustrating experiences while trying to renovate his house, describing the not-so-professional work ethic of the local builders. For someone looking for a light read with a taste of Europe, this is an enjoyable book.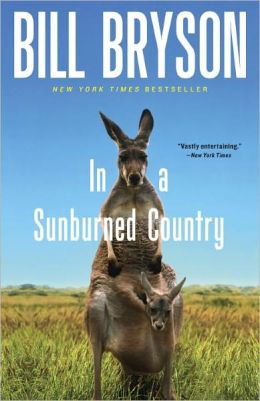 In a Sunburned Country by Bill Bryson: In his 1997 book, Bryson recounts his trip around and across Australia and offers interesting – and often hilarious – bits of Australian history along the way. Bryson is a quite comedic writer – at one point, he entertains the reader with a list of funny location names found in his book of maps: among them are Borrumbuttock, Suggan Buggan and "the supremely satisfying Tittybong" – but his attempts at humor sometimes underestimate the intelligence of his readers and make him appear thickheaded (e.g., his assertion that, "breakfast is the most savage event in Western society" on the basis that it is the only time a person would happily eat an embryo. Last I checked, the eggs we eat are unfertilized and therefore do not contain embryos.) Overall, it is an entertaining read that will certainly inspire those curious about Australian culture and the outback.